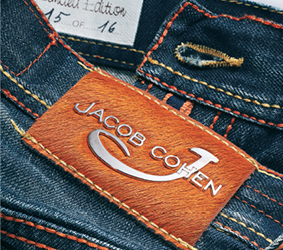 Italian jeans brand Jacob Cohën founded in 1985 is owned by Tato Bardelle, son of founder Nicola Bardelle. We offer in our official Jacob Cohën online store the largest collection of styles and washes. Throughout the year, we have 1500 Legendary Italian jeans in stock. The jeans are made from high quality denim coming from Japan, Kurabo or American weaving company Cone Mills.
Jacob Cohën jeans are characterized by their perfect fit, silver buttons, a label of horsehair and are very comfortable,  becides that they are regarded as icons in the fashion world.
The range consists of three jeans models, 620, 622 and 688. In addition, a model in chino called Bobby.
The 620 is the most traditional jeans model and has a regular fit. It is slightly slimmer than a standard regular, but has more thigh area. The 622 is a slim fit pants (slim fit) and a low waist. This means that the jeans is low at the hip. The lower band is accompanied by a smaller base width, which gives a modern look. Finally Jacob Cohen 688,  slim fit model, and a combination of the 620 and 622 but a high waist (upper band).